Montague WebWorks January 2011 Roundup
With the new year snow comes a flurry of new business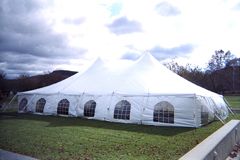 With the new year and change in management here at Montague WebWorks we have suddenly become inundated with new customers!
Earlier today Redeker Tent Rentals signed up for a Montague WebWork's RocketFusion website, and we should have their website completed by the end of next week. Owner Paul Redeker is very excited to finally be able to edit his own website content and post a monthly newsletter for his customers, plus have all the meta / search engine optimization built in to the RocketFusion software.
Earlier in the month Montague WebWorks also signed up the Green Emporium of Conway. Owners Michael Collins and Tony Palumbo need to be able to post their menu on a weekly basis and set up their calendar of special dinner events without having to pay their website guy -- who has suddenly moved on to other projects and no longer has time for them.
Tony liked the concept so much he is also moving his Neon Artists website to the RocketFusion platform, with the rest of his many websites likely to follow in the coming months.
Ray Cichy also liked the concept of being able to edit his own content and post new photos and news items all on his own for his Lake Ontario sports fishing company Brillyant Charters. He contacted us the first week of January and the website was completed, up and running the following week, and for a price that Ray loved. He's been uploading photos and tagging them like crazy ever since.
Spencer Peterman Bowls has been a Montague WebWorks customer since we opened shop back in October 2007. He has been happy with the ability to add a PayPal button to any photo in the photo gallery feature of the website software, but decided it was now time to upgrade to a full-fledged ecommerce cart website, and so hired us to make the switch for him. Starting in late February you'll be able to buy everything they have in stock in their new online store.
The biggest news is that Montague WebWorks has been hired by Greenfield's Market / COOP. It's been many, many years since the COOP has updated their website and they thought it was time to enter the 21st Century. General Manager Suzette Snow-Cobb said the final decision came down to using a reputable company offering a competitive price, who was LOCAL. She said the main influence on choosing Montague WebWorks was hiring someone who was in town and who could come to their offices and work with them directly, in person, in a short period of time.
In other news, Montague WebWorks is an official sponsor of the Mutton and Mead Medieval Festival happening at the Millers Falls Rod and Gun Club in Turners Falls, MA, on Saturday, June 18, 2011. MWW Owner Mik Muller is the General Manager of the Festival.
Mik also stepped up as the chairman ot the Montague Business Association, and will help steer the committee through 2011.
Montague WebWorks is now a proud member of both the Greenfield Business Association and the Franklin County Community Development Coorporation. In fact MWW held the first WebWorks University class for RocketFusion customers last night at the FCCDC. Free coffee and abundant muffins were made available as owner Mik Muller gave a refresher class in the software, and then handed over the class to search engine marketer David Ward who stepped us all through the process of creating a Google Places account.
January has indeed been a busy month. Let's see what comes in February!
Posted: to WebWorks News on Fri, Jan 28, 2011
Updated: Fri, Jan 28, 2011